Caribbean Cruise Vacation
Posted by

Annie

on

Thursday, 19 February 2015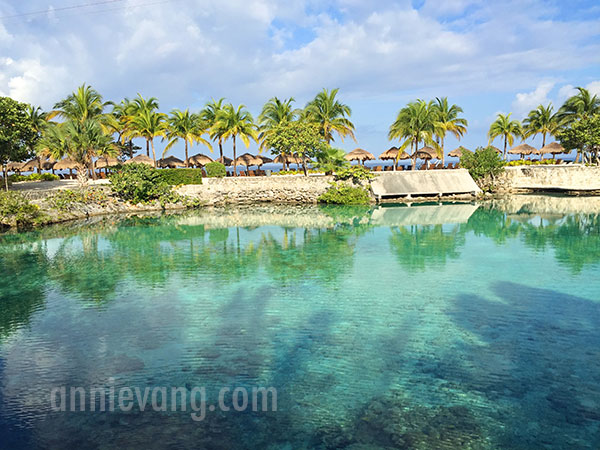 I had the most amazing caribbean cruise EVER! This was my first time cruising. I found a great deal with Carnival and booked online two weeks before departure.  My husband and I chose to cruise to celebrate our 22nd year anniversary.  Along for the journey my sisters Song and Myra, brother Toby, and Song's fiance Erik came for the journey. We took the Western Caribbean cruise which sailed to Cozumel, Mexico ... Belize City, Belize ... Roatan, Honduras ... and Grand Cayman, Cayman Islands. We decided to get a room with a balcony because I don't like confined spaces without windows. It was a few hundred dollars more but totally worth the money spent. Cruising in Hmong is "caij nkoj".
Prior to boarding airplane
Print the airfare tickets. Complete online forms for Carnival. Print the boarding passes for Carnival. Print luggage tags for Carnival and keep in a folder.
We flew out of Minneapolis to Miami the day before boarding the cruise ship.  We packed pretty light and had carry ons only.  It is snowing here in MN so we didn't want to take any chances with plane delays or possible cancellations.  We departed out of MSP at 6:30 p.m. and arrived in Miami around 11 p.m. January, 30, 2015.  When we arrived in Miami, all the places to eat were closed in the airport! We boarded a shuttle to a hotel and ordered late night pizza.  The next day the hotel shuttle took us to the port of Miami around 11 a.m.
Saturday, January 31, 2015 
Boarding Process in Miami, FL day of Carnival cruise boarding
Once we got to the gate for Carnival Glory, we handed our bags/luggage to the concierge.  They will tag your luggage and within a few hours your bags will be delivered to your room. Then we proceeded to go through the first check point to show our boarding passes and passports. We proceed through a security check point similar to that like the TSA security checkpoint. Then we went up the escalators and filled out some health forms.  Next we proceeded to another checkpoint where we receive our Sail & Sign cards.  You also get your picture taken. These cards are synced to the credit card on file when you register online prior to boarding. We waited until our number for our section was called and then we boarded the ship!
On the ship, we went to the Lido deck 9 and toured the 10th and 11th floors. Then we went back down to the Lido deck and ate the buffet. We went to our room and checked out our cool balcony. It was awesome!  The ship departed Miami at 5 p.m. and we sailed into the night.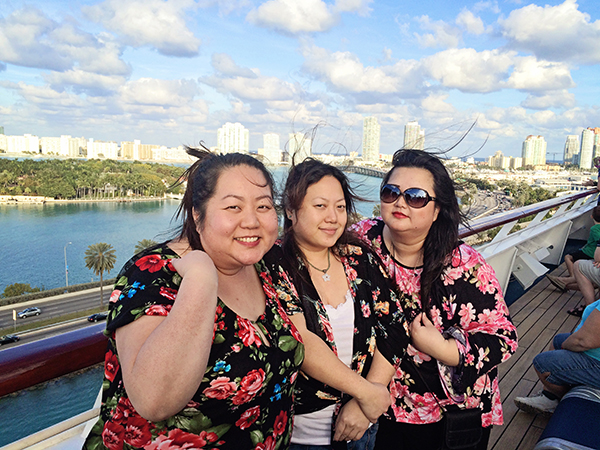 Sunday, February 1, 2015
Sea Day
We toured the ship and ate tons of food. We also visted the casino and played bingo.
Monday, February 2, 2015
Cozumel, Mexico
We got off the ship and walked to the port. We saw many people hold up signs for tourist excursions. We met a guide named Javier and he was holding up a sign for an all inclusive day at Chankanaab Park which includes snorkeling, tequila tasting, sea lion show, and see dolphin swim. This was a Carnival excursion. Cost was $79 per person.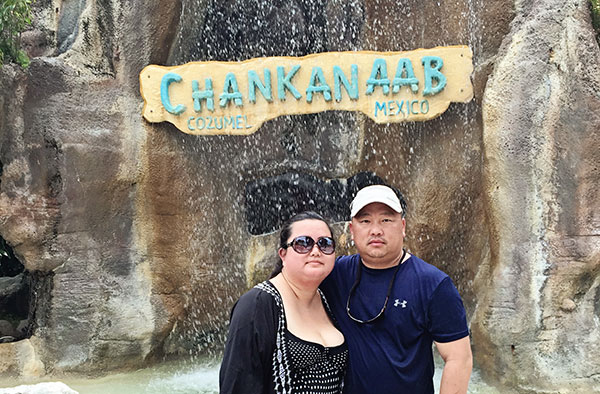 Tuesday, February 3, 2015
Belize City, Belize
To get to land, we had to take a tender boat which was about 20 minutes from ship to land.  We had to get some tender stickers and wait for our tender boat number to be called to board. Once we got to shore, we walked into the market place and saw many tourist excursions for sale. We booked a cave tubing plus zip line excursion from Belize Cruising for $90 per person. It was a local excursion and not sponsored by Carnival.
Our driver was Thomas. It was a 45 minute ride to the Mayan Jungle. My husband wore his crocs shoes so he didn't have to rent any water shoes. Me on the other hand, had to rent a $3 croc shoe.  It was another 45 minute uphill hike through the Mayan Jungle to the Crystal Cave. I didn't have any bug spray so I got bitten about 10 times all over my body. The cave tubing was awesome. Our guide Stephanie was excellent. After cave tubing, my hubby and I went zip lining.  We almost didn't make it back on time because the tender boat was supposed to leave at 4:15 pm. We didn't arrive back until 4:35 pm. However we weren't the last people because a Carnival excursion to the Mayan temple was late so we were exceptionally lucky! If you are on a Carnival excursion, they will wait for you if the tour is late.  If you are on a private tour, too bad you are out of luck and the ship will leave without you!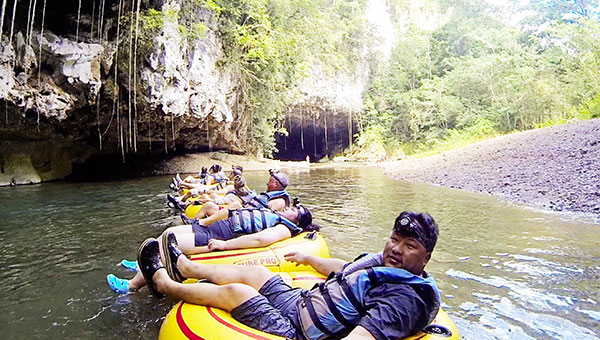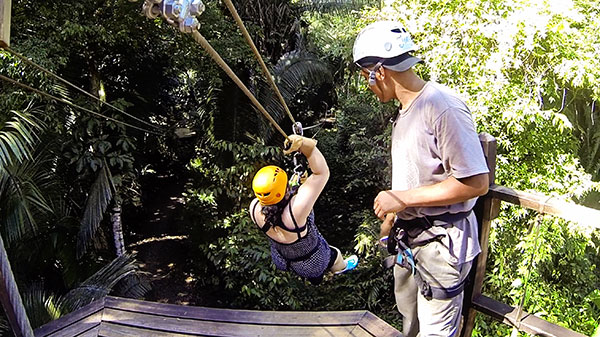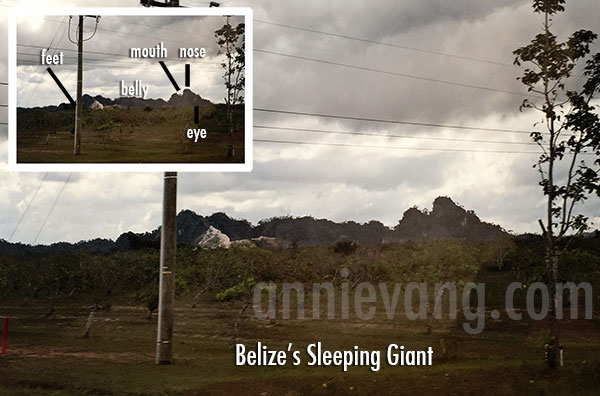 Wednesday, February 4, 2015
Roatan, Honduras
We got off the ship and walked to the port. This port was built by Carnival so it was exceptionally clean and beautiful. We booked an excursion for Tabyana Beach which was a 30-40 minute drive.  Cost was $39 per person. My husband loved the snorkeling and he captured a lot of footage on his GoPro Hero 3 camera.
The picture below is a picture of a beach built by Carnival. We didn't get a chance to visit it but it looks beautiful.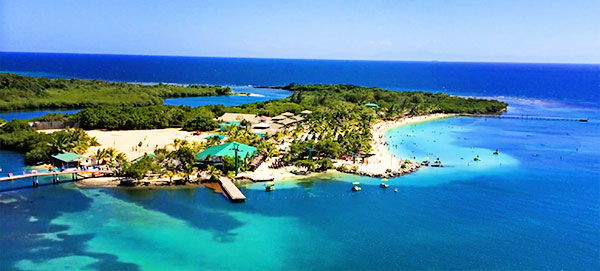 Thursday, February 5, 2015
Grand Cayman, Cayman Islands
This was another port that had tender boats. I must have seen about 9 ships on this port.  When we reached the port, we saw a local excursion for snorkeling at the stingray sandbar. Cost was $39 per person.  It was about a 20 minute boat ride to the stingray sandbar. The stingray sandbar was so beautiful and magical that I felt like I was in heaven. The stingrays swim around you. I got to kiss one!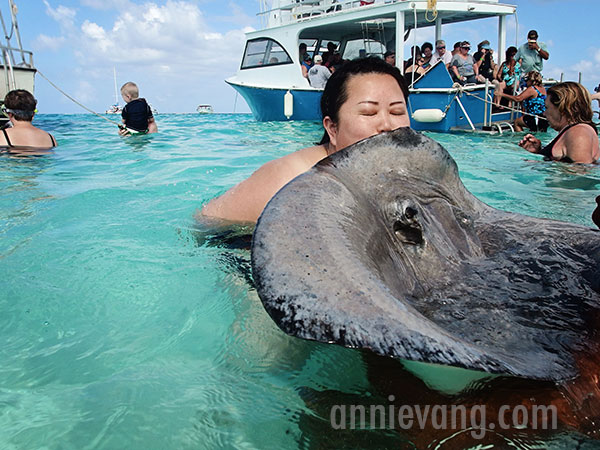 Friday, February 6, 2015
Sea Day
I had major sunburn and broke out into a rash. It was a good day to just relax and enjoy the ship.
Saturday, February 7, 2015
Disembark ship
We got up early and ate breakfast. Disembarking the ship was a bit confusing. Since we brough carry on luggage, we took our luggage and proceeded to floor 3 to disembark. We then had to go through customs.  Disembarking can take anywhere from 1 - 3 hours.   After we left the Miami port, we proceeded to the airport to rent a car since we were staying an additional 2 days in Florida and flying back home on Monday, February 9.  We drove down to Key West and spent a night there. We then returned to Miami Sunday night and stayed at a hotel.
Lessons Learned on First Time Cruising
Pack light, carry on preferably.
Beverage package for soda costs $6 per day per person. It was inconvenient for us because we had to also buy the $4 Carnival bubbles bottle and it an only be refilled at the bar which you have to show your Sail & Sign card and sign a receipt every time you get your bottle refilled. If you forget your bottle, they will fill a glass cup for you.  If you are still within the Miami port, you are taxed $0.13 cents each time you get soda. 
The formal dinner - you can order anything on the menu really.  However, we often ate at the buffet first and then we ate the formal dinner later since we were signed up for the late dining option.  Early dining starts at 6:30 p.m.
The ship can get a bit rocky when it's stormy.  If you are prone to motion sickness bring some dramamine or accupressure wrist bands.
Even though you are at sea, at night can get chilly, so bring a sweater or light jacket.
Book your excursions early, they may sell out fast if going through Carnival. 
If you find a cheaper price online for any same excursion that Carnival also sells, bring a printed copy of the price and Carnival will match it 110%.
Book through Carnival if possible. If the tour is late by any chance, the ship will wait for you. If you book local and are late, bye bye.
If there is a tender, get up early and be on time. Excursions on shore won't wait for you.
The mini fridge items in your room are not free. 
Food
All you can eat food almost any time of the day and night! The buffets are open almost all day except during 2:30 p.m. to 6 p.m. Don't worry even if you are hungry at that time, you can still eat at Guy's Burger Joint or the Blue Iguana Cantina.  Every evening you get a formal sit down dinner at one of the assigned halls. For us, we were on the 8:15 p.m. schedule and we had the same waiters serving us all week.  They were very nice. We had two elegant nights where you dress up in formal attire.  They weren't too strict on the formal rules.
Tipping
You are charged a daily rate for service tips.  For our cruise that was about $12 per person, per day.  It is split between the stateroom service and the dining room service.  You can also tip more if you so wish.  Carnival automatically adds an additional 15% tip for any alcoholic drinks you order at the bar.  For shore excursions, the tour guides do ask for tips at the end of the tour.  We did tip our tour guides in cash. 
Cost Breakdown
CRUISE CHARGES


For balcony stateroom 2 people
Cruise Rate
$1,428.00 ($714 per person, it was advertised on the site around $619 per person but when we selected our room this was the price)
Taxes, Fees & Port Expenses
$263.26
Total Cruise Charges
$1,691.26
We did not take the vacation protection insurance. 
Airfare was about $300+ per person at the time we booked.

For shore excursions, it can cost anywhere from $39 to $100+ per person.  You can plan and budget $100 per day per person as an approximate. You can save money by not doing a shore excursion and just visiting the port if you like.
You also are charged $12 per day per person for gratuity services (stateroom service, dining room service).

Bubbles (unlimited soda package plan) costs $48.30 per person ($6 a day per person)
Gambling money (if you like to gamble)
Souvenir money

Sail & Sign card is charged for anything you buy on the ship.  
Total Charges Overall: approximately $3,000
Overall
Overall this was an excellent experience and you will love the crystal blue waters of the Caribbean.  If you are looking for advice on a cruise, consider Carnival! It's got great pricing and much more affordable than the other cruise lines. Next time we will try the Eastern Caribbean cruise!