Posted by

Annie

on

Sunday, 9 December 2012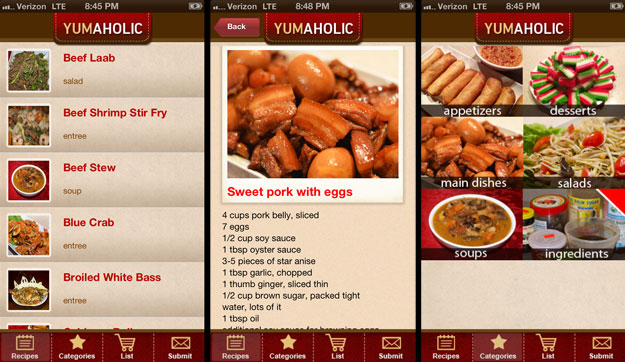 Hi everyone!
I'm really excited to announce that my cookbook is now finally on iTunes App Store for iPhones/iPods! It also works on the iPad but it is not an iPad application yet (coming soon).  It has about 40-50 recipes that I personally developed over the past year.
Current features of this app are:
food recipes, ingredients, instructions
categories (to easily find what you are looking for or for idea starters!)
shopping list (where you can add items you need to buy to make the recipes)
contact me (you can send me emails and feedback if you have questions)
It is a very simple app to get you started on cooking!
I hope that you are able to support me and my desire to make great things.  I am so grateful to all the wonderful support and friends I've made on this food journey!
For over a year, I've spent any spare time I have coding objective-c to make this app.  I'm an aspiring iOS App Developer since 2010. I first learned iPhone app development in 2009 and have loved doing it ever since.  I'm a full time web developer during the day and food crazed Youtube fanatic by night and iOS app developer by late evenings and early mornings.  How do I find time to sleep, right? Haha! Believe it or not, coding comes to me in my sleep/dreams. 
A very special shout out to my husband for helping me prepare the dishes and for sharing some of his prized recipes.  I also want to give thanks to my wonderful and talented sister, Song Vang, for helping me finalize the user interface design.  Many thanks to my loving son, Benjamin for helping me write the music to use in my Youtube food videos.  Much love to my parents who always believed I could do anything I put my heart into.  And most of all, thank you to all my friends and supporters!!!! You make me happy knowing that I can share with you great food!  I'm surrounded by much love. :-)