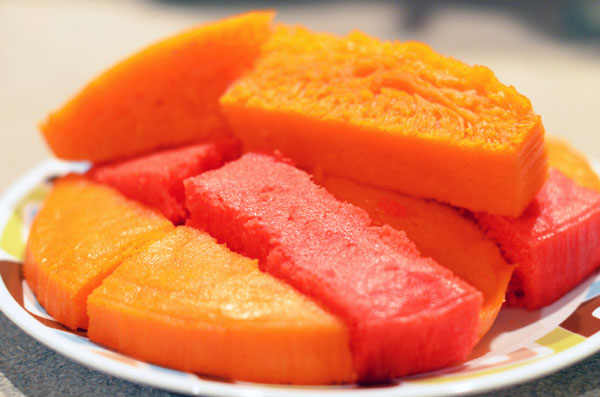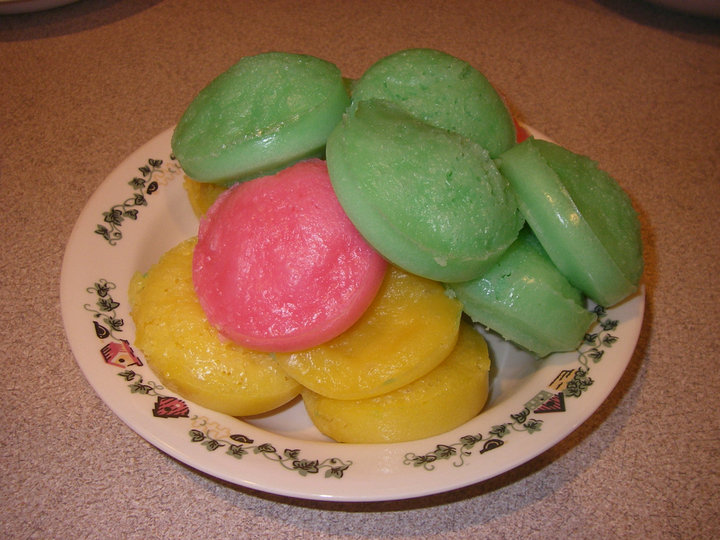 This is a delicious Vietnamese dessert called steamed rice cakes also known as banh bo.  When I was little, my grandma used to make this for me (minus the coconut milk). There is a chinese version to this cake that doesn't use coconut milk. In hmong we call this "ncuav sawv".
Many years ago when I tried to learn how to make this dessert, I failed miserably 13 times.  On my 14th attempt, I finally got the beautiful honeycombs in my steamed rice cake. Oh boy, what a journey that was!  The key to this recipe is PATIENCE!!!! Do not rush anything otherwise, you'll end up with a flat and unflattering cake.  I also found that the secret to nice honeycombs is also in the preparation of the first step. It is critical that you have a good solid container.
Update!
If you use instant yeast, you only need to allow the batter to rise for about 1 hour, then add the coconut/water/sugar mixture and let rest 20 minutes and then you can steam it. No need to wait 5-10 hours.
Ingredients:
1 - 16 oz bag rice flour
2 cups lukewarm water
1 tbsp sugar
1 package yeast or 2 1/4 tsp yeast
1 - 13 oz can coconut milk (the cooking kind is preferred, do not use dessert coconut milk)
1 3/4 cup sugar (adjust sugar to your liking)
1 cup water
gallon ice cream bucket or other airtight container
Step 1
Add 2 cups warm water, yeast, and 1 tbsp sugar to an ice cream bucket. Mix.
Add rice flour and mix.
Close lid, set aside for 5 - 10 hours (or overnight).  The batter will rise and fall.  The longer you keep it in the container, the stronger the flavor. 
Step 2
In a small pot, add 1 cup water, coconut milk, and the sugar. Heat on medium until sugar is dissolved. Do not boil.
Set aside for 10-15 minutes until cool.
Mixing it all together
Using a whisk, stir the batter to loosen it from the ice cream bucket.
Add the syrup from step 2 to the batter. Mix.  It will become the consistency like milk.
Close lid.
Set aside for 1 hour.
After 1 hour
Open lid and you will see tiny air bubbles form.
If you want to make multiple colors, separate the mixture into equal parts. Add food coloring of your choice. Skip this step if you don't want color.
Heat a steamer to boiling and place a metal pie pan.  Make sure the metal pie pan is hot before you pour in the mixture.
Steam on high for about 15-20 minutes.
When the rice cake is done, the top surface should be solid.
Remove from steamer and place into a freezer for about 10-15 minutes until cool.
Transfer onto plate and cut. Serve
I hope you try this recipe and let me know how it turns out for you!
Variations!
Steam in tart molds
Cut up the bottom of soda cans and use as a mold.  It has a unique shape!
Steam in small round molds or dishes