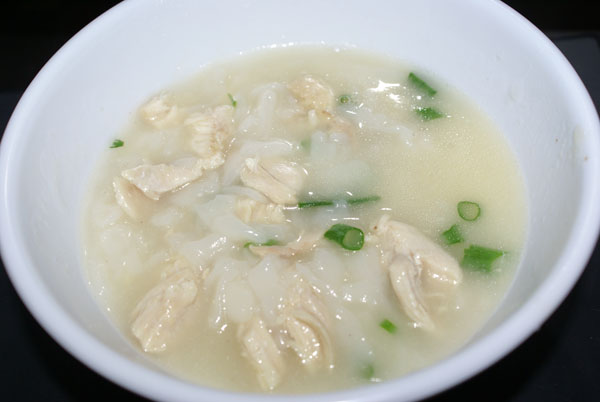 This soup is great to eat on cold winter days or just days when you are feeling under the weather.  It can be enjoyed with various condiments such as fried garlic, chili paste, cilantro, green onion, fish sauce, etc ... Today, I will show how to make a simple rice noodle soup with chicken.
Serves 4 servings
 
Stock Ingredients:
1 cup chicken pieces (you can use whatever pieces you want)
5 cups water (you can add more later if you want it less thick)
1 stalk lemongrass (chopped into 3 pieces) - optional
3 chopped green onion for garnish - optional
1/2 tsp salt
 
Noodle Ingredients:
1 cup rice flour
1 cup glutinous rice flour
1 cup hot boiling water
tapioca flour for dusting (keeping it from sticking)

 
Making the stock:
Boil the chicken, salt, & lemonstalk in the water.
Scoop out any foam that may be floating in the water.
Cook for about 10-15 minutes. Cooking time will depend on how big you chopped up your chicken pieces.
Take the chicken pieces out and shred them with a fork until you get small pieces.  Set the chicken aside in a bowl.
Making the noodles:
Boil water in a pot.
Mix the 1 cup rice flour (red one) and the 1 cup glutinous rice flour (green one) in a large bowl.
Add 1 cup boiling hot water slowly into the mixture and mix it together until incorporated. You will have to use your hands to knead the dough.  If it is too dry, add 1 tsp water.  If it gets too sticky, add a few tsp of tapioca starch (blue one).
On a large surface, lightly flour with tapioca starch.
With a rolling pin, flatten out the dough.  Add tapioca starch so it doesn't get too sticky.
Cut the noodle into long strings.
Putting it all together:
Carefully place the noodles into the stock and boil for 5 minutes.
Then add back the chicken pieces.  Add more water if it gets too thick. Be careful not to stir the noodles too much or else they will break.
Cook an additional 5 minutes. Then it's ready to serve!
Add any condiments of your choice!
Modifications to this recipe - time saver!
If you have a KitchenAid mixer or similar, mix the flours and water with the dough mixer.
If you have a KitchenAid noodle cutter, use the fetticine blade to cut the dough into strips.
Hope you enjoy this recipe.  Feel free to leave me any comments.