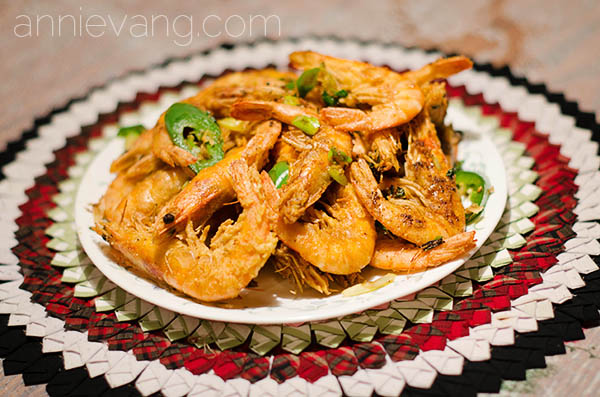 Ingredients
1 to 2 lb shrimp
3 cup oil for frying
1 cup all purpose flour
1/2 tsp salt
1/2 tsp sugar
1/2 tsp black pepper
1/2 tsp white pepper
1/4 tsp garlic powder
1/2 cup sliced jalapenos
1/2 cup chopped green onions
Quick Notes
if you don't have white pepper, you can skip it.  
garlic powder is optional too.

if you like five spice powder, pinch a little into the dried spices mix.
Coat the shrimp in flour and dust off excess flour.
Heat oil in a pan on high heat.
Deep fry the shrimp until it starts to ooze out. Remove and place on paper towel.
In another pan, add the shrimp infuzed oil you used to fry the shrimp.  
Add the jalapeno and green onion and fry for a few seconds.
Add the dried spices.
Add the shrimp and toss quickly.
Serve.