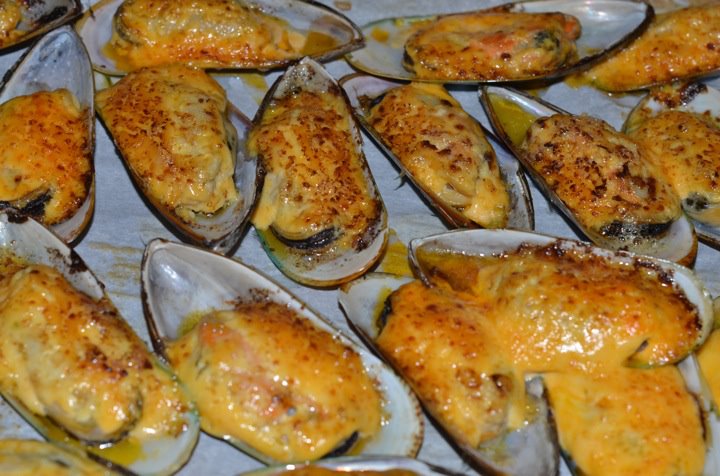 These mussels are exceptionally easy to make.
Ingredients:
1 bag frozen mussels (I bought mine from the asian store)
1 cup mayonnaise (you can use the Japanese Kewpie brand or regular mayo)
a few squirts of sriracha sauce (adjust to your liking)
smelt roe fish eggs (optional)
 
Thaw the mussels. Pat dry with a towel or napkin.
 
Place mussels on parchment paper on a baking sheet.
 
Mix the mayonnaise and sriracha sauce together til it blends together.
 
Using a spoon, scoop out the sauce and layer it onto the mussels generously.
 
Broil in the oven for about 5-10 minutes until it turns golden brown.
 
Remove from oven and serve hot.
Variations
Add the smelt roe after you layer the mussels with mayo / sriracha sauce.
You can also cut up the mussels into smaller pieces and then place them back on the shells, then add the sauce and bake.  It makes it easier for eating.
Enjoy! Leave me any comments if you tried this! :-)