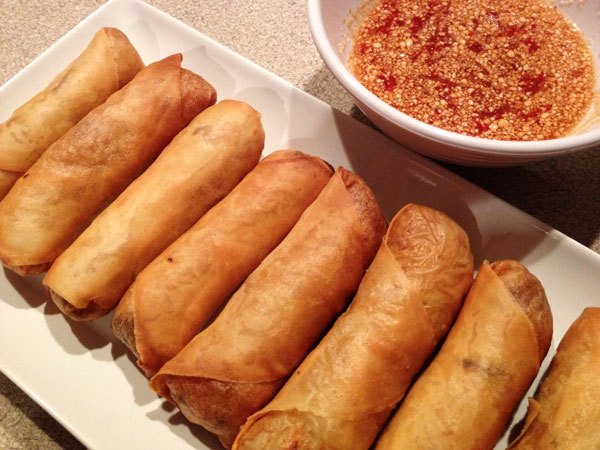 Hmong eggrolls are fun to eat any time of year!  Here is a very basic recipe.  Experiment with other ingredients and add whatever you like to suit your taste!
Ingredients:
1 lb or 2 lb ground meat of your choice (pork, chicken, turkey, beef)
2 cup shredded cabbage
2 cup shredded carrots
2 cup chopped onion
2 tbsp oyster sauce
2 tbsp salt
1 package rice vermicelli cellophane noodles
3 eggs
1 egg yolk for sealing the wrapper
50 sheets eggroll skins
 
Add hot water to rice vermicelli cellophane noodles and let soak 5-10 minutes until soft.  Then take scissors and cut up the noodles.
Mix meat, cabbage, carrots, onion, oyster sauce, salt, noodles, eggs until well combined.
Peel the eggroll skins.
Place eggroll skin on a flat surface. Add the eggroll mixture and roll up. Seal the ends with egg yolk.
Fry in hot oil until golden brown.
Eat with some sweet chili eggroll sauce!