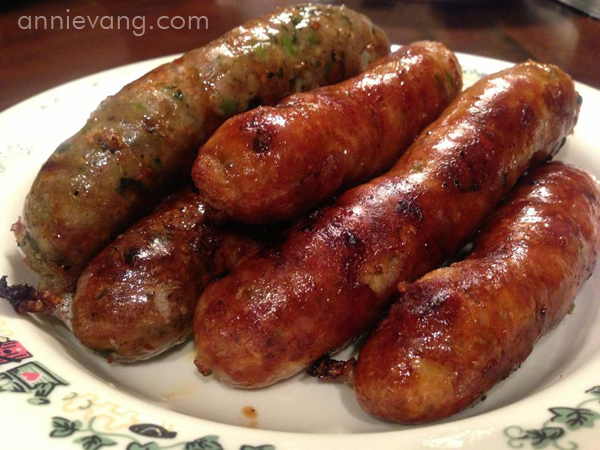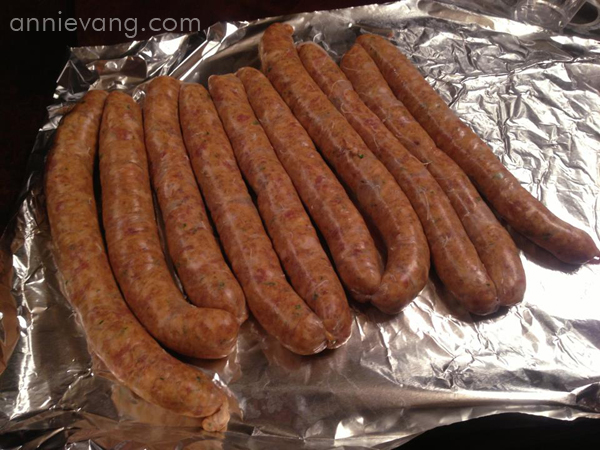 Hmong Pork Sausage, Asian Sausage
It's been a fun journey making hmong sausages over the past year.  Prices have really peaked here where I usually buy hmong pork sausage. Now it's about $10 for a 2 pound pack.  So I opted on my quest to make my own home made Hmong style pork sausage.  I am happy to share with you what has worked for me and that I've received great feedback on my sausages.  The recipe below will make about 10 pounds of pork sausage.  They keep very well in the freezer, so you can keep them there for months and they will still taste great!

I also have another recipe for an herb infused hmong pork sausage. I will make a video of that one another day.  For now, the one below is for the spicy hmong pork sausage.  If you don't like spicy, omit the thai chilies.
Ingredients:
5 pounds pork belly grounded up
5 pounds ground pork
1/4 cup thai chilis minced
1 cup red onion minced
1 cup green onion minced
1 cup ginger minced
1 cup lemon grass finely minced
1/4 cup lime leaf minced
1/4 cup chili sauce in peanut oil
1/4 cup tapioca starch
1/2 cup glutinous rice flour
1 tbsp Morton Tender Quick 
1 tbsp MSG (optional)
1 tbsp salt
1/2 cup fish sauce (three crabs brand)
1 cup water
1/4 cup sugar
hog casings
 
Remove the hog casings and let sit in cold water for 30 minutes.
Rinse each hog casing with cold water until the salt is removed. May need to repeat several times.  Set aside.
Mix the water, chili sauce, and thai chilies in a small bowl.
In a large bowl, mix all the ingredients together and pour the sauce in step 2 into the mixture.
Stuff the sausage in the hog casings.  You can use various methods to stuff your sausage.  In my video below, I will demonstrate to how stuff sausage using a sausage stuffer I bought from Gander Mountain.
Tips and Advice
Get a good quality sausage stuffer if you are going to make a lot of sausage.  Doing it manually takes too long.
I bought a Kitchenaid sausage stuffer attachment for under $20 but it took too long and my arms got sore pushing the meat into the stuffer.
I tried doing it manually with a milk jug and 2 liter bottle. Too long.
Do not overstuff the sausage, leave it loose so that the meat can expand and cook.  If your sausage explodes, it means it was too packed too tight.
If your sausage comes out too salty, it usually means you left a lot of salt in the hog casings and didn't rinse all the salt out.
Morton Tender Quick salt. You can find this at most grocery stores.
MSG is optional. It's a meat flavor enhancer, if you don't like it don't use it.
Don't skimp on the chili sauce in peanut oil. This gives the sausage that nice flavor and color.
Asian Pork Sausage, Hmong Sausage, Lao Sausage