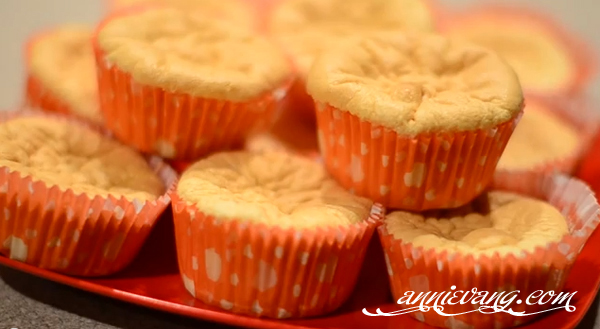 This recipe is very easy to make! I love eating these any time of the year! They are soft, moist, and delicious! Reminds me of my childhood.
Ingredients:
3 egg yolks
3 egg whites
1 whole egg
1/3 cup canola oil
1/2 cup sifted cake flour
1/4 cup fine sugar (see instructions below to make your own)
1/2 tsp vanilla extract (optional)
Steps
Beat the 3 egg yolks plus 1 whole egg. 
Add the oil and beat.
Add the cake flour and mix. Add the vanilla extract.
In a mixer, beat the egg whites until frothy. Then add sugar.
Continue to whisk until the egg whites form stiff peaks.
Fold the egg whites into the batter until combined.
Pour into paper lined cup cake pan.
Bake in the oven at 350 degrees for 18 to 20 minutes (or until top is golden brown).
Cool on a rack and serve!
Making your own fine sugar
Put sugar in a food processor and process it until it is powdery soft. 
You don't want to end up with powdered sugar, but you want the consistency to be soft and fine.