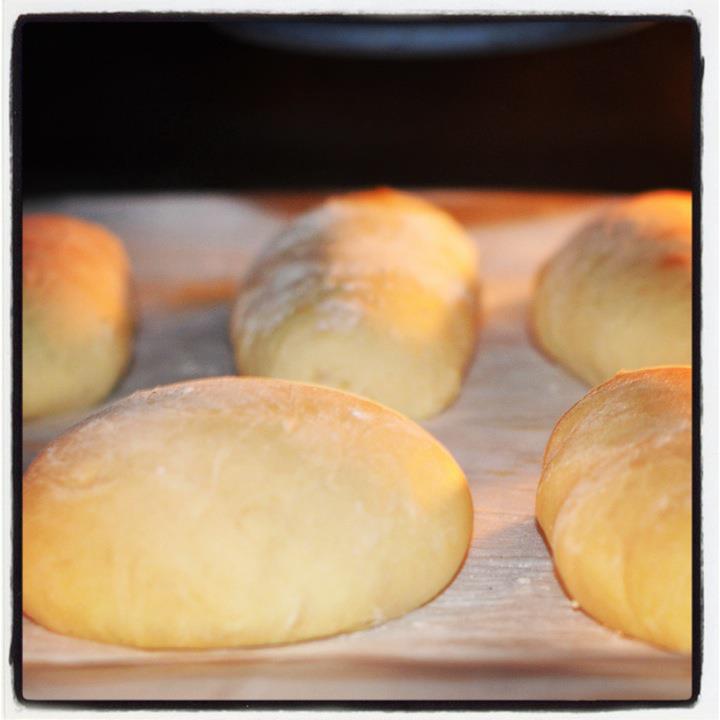 This is a delicious, warm sweet bread that is great with coffee or tea.  I learned how to make this bread from my sister in law Ntxawm Cheng.  Thank you Ntxawm Cheng!!!! It's a simple process.  She taught me how to make a huge batch.  But this version below is one that I slightly modified to make half the batch (about 30 loaves depending on how big you make them). 

I don't know what the real name of this bread is.  But it kind of tastes like the bread that I ate once in California, so I'm just nicknaming this that bread!
Hmong Long Cheng sweet bread
Ingredients:
1/2 can evaporated milk
1/2 can sweetened condensed milk
5 eggs
1 lb sugar (this is about 25% of a 4lb sugar bag)
5 packages of vanilla sugar
1 can coconut milk
1 and 1/2 can water (use the coconut milk can)
1 tbsp baking powder
5 packages instant yeast
5 lb bread flour (save at least 2 cups for dusting)
 
1 large rectangle aluminum pan
2 large aluminum baking sheets
parchment paper
 
In a really large aluminum pan, mix evaporated skim milk, condensed milk, eggs, sugar, vanilla sugar, coconut milk, water, baking powder, and yeast.  You'll get a slushy consistency.  I used my hands to do the mixing but if you want, you can use a whisk.  By using my hands, I'm able to feel if the sugar has been dissolved.
 
Add the bread flour to the mixture and continue mixing until incorporated.  The mixture will resemble a really thick pancake batter and will be very sticky.
 
In an oven, heat to 170 degrees.  If you have a warm feature in your oven, keep it at 170 degrees.  Cover the aluminum pan with foil and let the dough rise in the oven for about 1 hour.
 
The dough will double its original size.  Remove from oven and place the pan on a solid surface.
 
Dust your hands in flour and take a baseball size piece of dough.  Roll it into a hot dog bun shape and place onto the parchment paper 1 inch apart.  You can also roll it into a circle if you wish. Try different shapes!
 
You can use two baking sheets to cut the cooking time in half.  Just remember, the bottom one will cook faster so you will have to keep an eye on it.
 
Bake in oven at 350 degrees for about 30 minutes or until the bottom turns slightly brown.  The top may not be brown, but as it cools it gets brown. Remove and cool on a rack.
Variations:
Add some pandan custard to the inside when you are rolling the dough into pieces.
You can also try taro, vanilla custard, nutella, etc ... be creative!
You can also try to slice the top to make cool shapes like X's or other. Get creative!
Tips:
Personally, I like my buns soft so I try not to let the bottom part brown too much.  Once you take it out of the oven, it still continues to cook a little.  You will notice that the top will start to brown more even after it's out of the oven.
 
If you want to freeze the buns for later use, don't cook them all the way brown.  Use a tong to lift up the bottom to see how solid the bun is.  If it's flimsy, it's not cooked.  If it's firm but not brown, remove from oven. Let it cool first before putting into a bag or freezer.  If it's hot and you freeze it in a bag, condensation will build up and you will have a slimy bun hehe.
Good luck!  Please leave me a comment if you have any questions.  I'll be back to post more step by step pictures.  A lot of people have been asking me for this recipe so I am posting it here for you to try! I love to share, so sharing it is!
Here's a video if you want to see me in action!