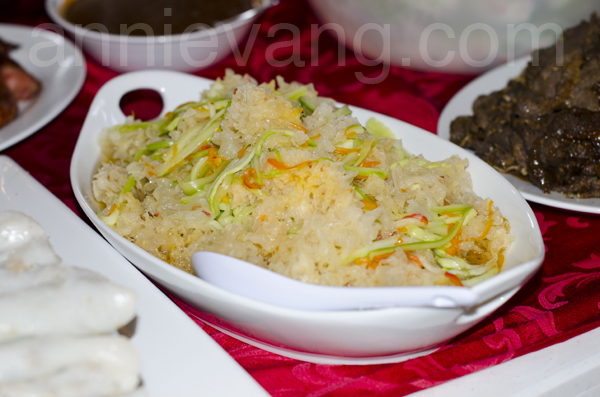 This dish has a sweet, sour, tangy taste. It's very refreshing! You can adapt it with any ingredients you like! This recipe makes a big batch that feeds about 10-15 people like the picture above.
Ingredients
1-2 bags dried white fungus mushroom (use more or less depending on your liking)
1/2 cup sliced bell peppers (you can combine red, yellow, green bell peppers)
1/4 cup sliced yellow onion or green onion
1/4 cup chopped cilantro
1 cup sliced strips of cucumber
1 cup chopped lettuce
1 cup cooked shrimp (sliced in half)
Sauce Ingredients
1/2 cup sugar
1 cup fish sauce (I use the Three Crabs brand, if yours is different you may need to adjust the amount)
1 cup lime juice
1 cup water
1 tbsp garlic chili sauce (the chili in a jar with green cap), you can also just use thai chilies if you don't have this
 
Soak the white fungus mushroom in hot water. It's best if soaked overnight but if you are in a hurry, you can soak it for at least an hour.
Rinse the mushrooms clean and break it apart with your fingers into bit size pieces.  You can get rid of any dark yellow spots.
Make the sauce by adding the sugar, fish sauce, lime juice, water, and garlic chili sauce in a large bowl.
In a large bowl, add all the fresh vegetables and shrimp together and toss with the sauce.
This can be eaten immediately but best served if refrigerated cold.
Enjoy!
Tip! -- If using bell pepper, you can remove the skin first if you don't like the rubbery skin texture. I usually remove the skin and then slice them thinly.

Please note, this dish can be made ahead of time.  The only ingredient you may hold off on adding is the lettuce because it is delicate and will get soggy sooner.  You can adapt and add/remove any of the ingredients.  Experiment and do come back to tell me how it worked out for you!
Optional ingredients ideas:
avocado
vermicelli khaub poob noodles
jicama
cooked green beans
shredded papaya
other!