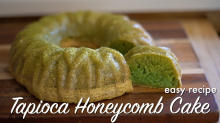 Ingredients:
10 eggs
1 1/2 cup sugar
1/2 cup warm water
1 can coconut milk
1 tsp vanilla extract
green food coloring
1 bag tapioca flour
3 tsp cream of tartar
1 1/2 tsp baking soda
Pre-heat oven to 350 degrees. Spray a hot pan and place into oven to heat up. 
In a large bowl, crack the eggs and mix. 

In another bowl, add the water and sugar. Mix.
Combine the eggs with the water and sugar mixture. Mix.