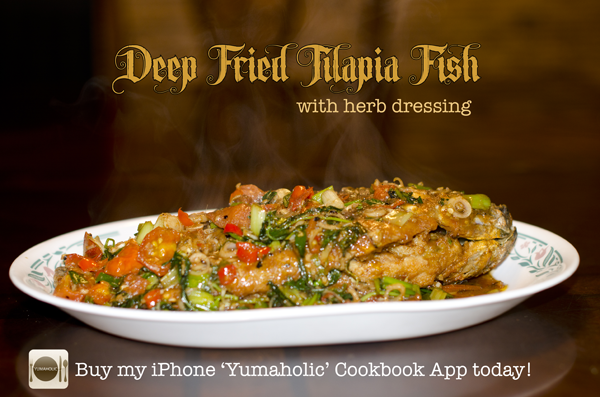 Here is my recipe how to make deep fried tilapia! You can adapt this recipe with any fish.
Ingredients
1 pound cleaned tilapia fish
1/2 cup green onion chopped
1/2 cup ladysthumb chopped
1/2 cup cilantro chopped
1/2 cup culantro chopped
1/4 cup mint chopped
1 cup cherry tomatoes cut in half
1 lemongrass sliced thin
1 tsp garlic minced
1 thumb ginger sliced thinly
1 tsp oyster sauce
4 tbsp oil for the sauce
1 tsp salt
3 eggs
1 cup all purpose flour
4 cups oil for frying
 
Clean the tilapia fish and cut off the fins with a scissor or knife.
Score the fish on both sides.
In a small bowl, beat eggs and coat the tilapia in it.
Coat the tilapia with flour on all sides.
heat a pan over high heat.  Ad enough oil to deep fry the fish until golden brown. Flip on each side until golden brown and to ensure the fish cooks evenly.  When the fish is crispy on both sides, remove it from the oil and place onto a plate.
In a smaller pot, make the sauce by adding 4 tbsp of oil, ginger, garlic, lemongrass, oyster sauce, salt, tomato, green onion, ladysthumb, cilantro, and culantro. You can use MSG if you like. Cook for a few minutes until the herbs are wilted and the tomatoes are soft.
Pour the sauce over the fish and serve hot.