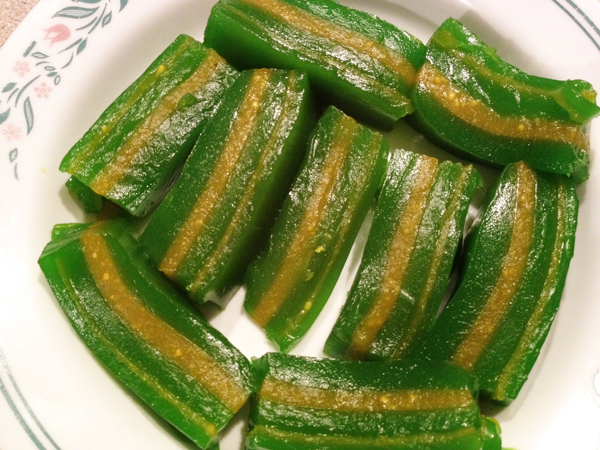 I love eating this steam tapioca layered cake dessert on as a past time snack.  It's soft, chewy, and coconutty. This is also known as "banh da lon" in Vietnamese. It is also known as "kuih lapis" in Malaysia.  This recipe makes 1 cake.
Tapioca Cake Ingredients:
2 cups tapioca starch
1/2 cup rice flour
1 1/4 cup sugar
1/2 cup water
1 can coconut milk (13 oz) + 1/2 cup water
1 cup cooked yellow split mung beans
 
Boil the 1/2 cup water and add the sugar until disolved. Set aside.
In a large bowl, combine the rice flour and tapioca starch.
Add the coconut + water mixture to the flour mixture. Stir.
Add the water/sugar syrup to the mixture.
Divide the mixture into 2 parts. 
Yellow layer - add the mung beans and mixture to a food processor. Blend until smooth. Sift the mixture to remove lumps. Add yellow food color.  If you don't like mung beans, skip the mung beans!
Green layer - add food color and mix.
Place a metal container in a steam pot.  Add one layer of green. When solid, add yellow layer. Continue until all layers are finished.
Once cool, cut the tapioca cake.  When it's warm, it is really sticky.  It gets more firm once cooled. Enjoy!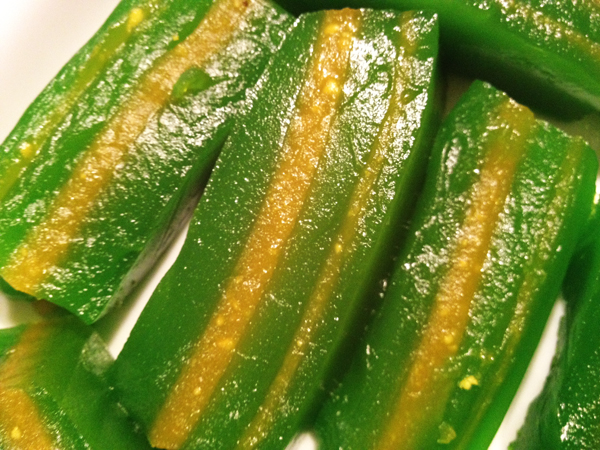 Watch the video!