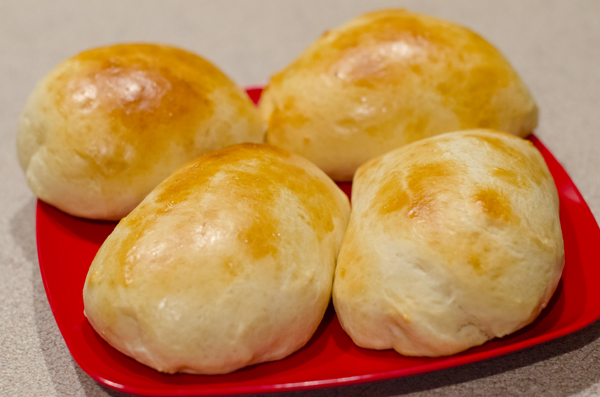 This bread is soft, sweet, and delicious! This bread was inspired from my experience eating soft sweet japanese bread. I used a chinese method to make the flour paste. This helps the bread be soft!
Ingredients:
5 cups bread flour
1 cup sugar
2 packages of instant yeast
1 cup milk
1 cup water
1/3 cup bread flour
2 eggs
1 tsp salt
1 tsp vanilla extract
1 stick butter, softened and cut up in slices
Step 1
Add 1 cup water and 1/3 cup of bread flour to a sauce pan. Mix on medium heat until it forms a thick paste.
Remove and set aside to cool
Step 2
In a mixer, mix 5 cups flour, sugar, yeast, and salt together.
Mix wet ingredients together: 1 cup milk, 1 tsp vanilla extract, 2 eggs, the flour paste from step 1.
Make a well in the mixer and add the wet ingredients to the dry ingredients.
Using the bread/kneading hook, knead until smooth.
Add the softened butter one at a time.
Knead for 20 minutes or until the dough is elastic and smooth.
Set in a dry place and let it rise until double in size.
Step 3
Shape the dough into any shape you like.
Mix 1 egg white with 2 tbsp of water.
Brush onto the buns before baking.
Bake for 10-13 minutes on 350 degree oven OR until the top is golden brown.
Do not overbake, it will make your bread hard.
Remove and let cool.
Enjoy!