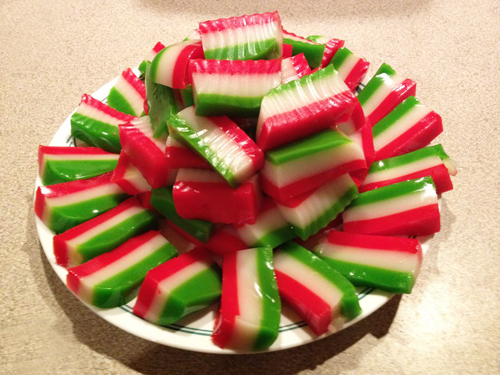 Making Hmong jello is very easy.  It is great for all occasions.  All you need are a few ingredients! Let's get started.
Hmong Jello Ingredients:
Version 1
1 cup of Knox Unflavored Gelatine (if you can find the 16 oz can it will save you lots of $$)
1 can of coconut milk (13 oz can)
5 cups of hot water
1 and 1/2 cup of sugar
add small amount of salt (optional)
add drops of smell flavoring (cov tsw tsw qaab rau nabvam) OPTIONAL
 
Add sugar to a large bowl.
Measure out 5 cups of boiling water to a big bowl. (becareful cos it's hot!)
Then add the water to dissolve the sugar.
Add coconut milk and stir.
Lastly, add the Knox unflavored gelatine. 
Divide the mixture into three equal parts. 
Add food coloring as you wish. 
In a large pan, pour one color mixture and place in the refrigerator until firm (usually 15 minutes, depends on the temperature of your fridge). 
When the layer is firm, add another layer.
Once it's all solid, cut it up into smaller pieces!
VERSION 2 - this one tastes creamier!
5 cups water
1 and 1/2 cups sugar
3/4 cup unflavored gelatin
1 can of coconut milk (13 oz)
5 egg yolks
pinch of salt
Food coloring of your choice

Mix the water, coconut milk, and sugar in a bowl and heat over medium heat. Add a pinch of salt, optional.
When little bubbles start to form on the surface, add the egg yolks and stir immediately. Do not let it boil or else you will have scrambled eggs.
Sprinkle the gelatin carefully and stir so it does not get lumpy.
Remove and separate into 3 equal parts.
Add food coloring as you wish.
Pour one color in a pan and chill in the freezer or fridge until solid.
Pour next color when the layer is solid enough to hold another layer.
Continue until all colors are done.
Cut and serve!

To make egg shell mold, crack the narrow end of the egg with a toothpick or knife. Carefully remove a dime size hole. Pour out the egg whites, then the egg yolk will come out last. You can use the egg yolks for this recipe or save for another time. Rinse the egg shell in water. Place upside down back in the egg carton so the water drips out.  If you are concerned about using real eggs, I suggest you can buy egg molds online or at the store.  They make jello molds for eggs.

To fill the egg shells, use a plastic bag and pour it carefully into the shells. OR put the liquid into an empty plastic squeeze bottle and pour into the egg shell.
Where to find the large can of unflavored gelatin?
I bought a 16 oz can of Knox Unflavored gelatin at a large American grocery supermarket. Here in Madison, WI I bought it at Woodman's.  If you cannot find the 16 oz can, you can buy the individual unflavored gelatin packages at any supermarket.  It is cheaper to get the 16 oz can if you plan to make a lot of jello! You can make a few batches with the 16 oz can!
Where to find the powder food coloring like the one in the video?
I bought the Swad food coloring at my local asian grocery store.  If you cannot find powder food coloring, you can use liquid food coloring too.  Powder form just makes the colors brighter but any coloring would work. 
I hope you enjoy this recipe.  Try it with different colors and see how it turns out!  Please subscribe to my youtube channel for more updates and new videos!