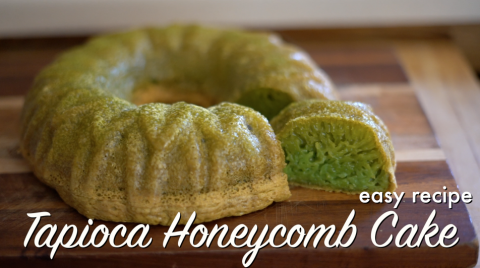 Ingredients:
10 eggs
1 1/2 cup sugar
1/2 cup warm water
1 can coconut milk
1 tsp vanilla extract
green food coloring
1 bag tapioca flour
3 tsp cream of tartar
1 1/2 tsp baking soda
Pre-heat oven to 350 degrees. Spray a hot pan and place into oven to heat up. 
In a large bowl, crack the eggs and mix. 

In another bowl, add the water and sugar. Mix.
Combine the eggs with the water and sugar mixture. Mix.
Add the vanilla extract and food coloring. Mix.
Add 1/2 the tapioca flour to the mixture.  Mix. Add the remaining tapioca flour.
Strain through a mesh wire strainer to get rid of any lumps.
Combine the baking soda with the cream of tartar. This will become single acting baking powder.
Pour into pans and bake in the oven at 350 degrees. Cooking time will vary between 30 minutes to 40 minutes.