Posted by

Annie

on

Monday, 3 March 2014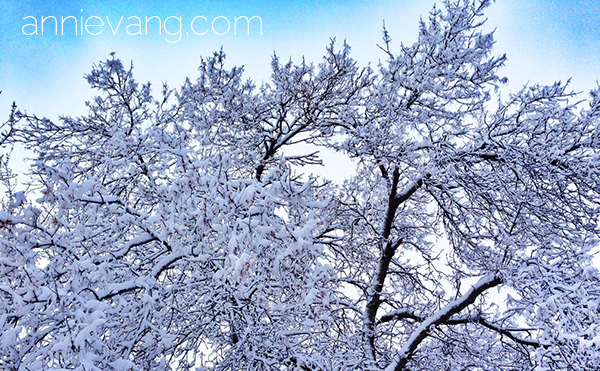 [A picture I took of the tree outside my mom and dad's house.  The first thing I see when I go outside.]
Hello everyone!
It's been 100 days since I moved to St. Paul, Minnesota. It's been an eye opening experience.  I'm learning new things every day and staying busy.  I still travel back and forth to Madison, Wisconsin because my house has not sold yet and the transition has taken longer than expected.  I'm currently residing with my family so I haven't bought a new house yet.  Please pray for me and hopefully my house in Madison will get sold soon.
I haven't had the opportunity to cook up any recipes.  I really miss my kitchen.  I enjoy my mom's hospitality but truly--you can only have one queen of the house.  However, it's a pleasure eating my mom's home made food and her super simple easy khaub poob.  I long for my own kitchen and personal space.  It's been such a long time since I have lived with my parents and siblings.  I'm very happy to be close to them and see them every day.  Living in Madison was a bit lonely because I had no relatives nearby.  
When you move away, you really learn who cares and who doesn't care about you.  The ones who care about me follow up with me.  The ones who don't care never speak a word.
What has these 100 days been like?
Physically-- It's cold here in Minnesota (same as in Wisconsin).  Wish winter would just end! I am living in the most Hmong populated city in America yet I haven't really seen that many Hmong.  Guess I don't go out much. Mostly just work, home, grocery shopping, and YMCA.  I wish the rush hour traffic could improve, still getting used to the long commute.
Mentally-- I haven't been this challenged in quite a long time.  Over the course of these last 100 days, I have learned Groovy, Grails, Angular JS, C#, .NET, and WCF Web Services.  I'm a big tech geek so I really enjoy learning new programming languages.  It's very important to stay current and relevant with technology so it makes you marketable and competitive in the industry.  I feel gratification when I can solve problems and create eloquent code! 
Emotionally-- I miss my family and friends in Madison. I get to see them when I travel down to visit on weekends.  I am thankful to all the support from my MN family.  I love them!  
Spiritually-- I haven't gone to church in the last 100 days.  I am feeling a bit spiritually depleted.  I need to find a church here soon.  I've been traveling a lot so I have not made the time to visit a church and worship.  God, please forgive me! 
Deliciously-- The best food I have eaten since I arrived here has to be the chicken makhani I bought from India Palace.  I also love the food trucks in Minneapolis.  My brother's zuppa soup has been my favorite home cooked meal he's made for our family.  My husband also makes a delicious ox tail soup that I love, love, love!!!! 
Youtube and Facebook -- I've also been greeted with happiness and disappointment too.  Happy that I have 17,900+ subscribers on Youtube now.  Sad that I see my recipes on some blogs online and no credit or linkbacks to my site.  Also disappointed to see people crop out my name from my photos and try to pass on as their own photos.  Totally uncool ... In February someone made a fake Youtube account and uploaded all my videos from my Youtube channel to their fake channel.  With the support from my friends online, they helped me report the fake channel and Youtube suspended that account.  It was a victory but as soon as that one came down, two more came up.
Korean Dramas-- I haven't watched any in the last 100 days.
TV Dramas-- My sister and brother got me into Game of Thrones. I watched this during my christmas break in Madison.  My 3 faves are Tyrion, Arya, and Daenerys.  I'm also following the Walking Dead now that it's airing again.
Plans for the spring/summer-- I plan to take a vacation this summer. Not sure where I will go yet.  Maybe France ... It's always been a dream of mine to go there.  When I was a little girl, I was so infatuated with french culture that I studied french for years. Haven't spoken it in forever but I can read, comprehend, and write it.  Speaking french, I can but with not a lot of confidence anymore... Maybe a POTLUCK MEETUP this summer?  We shall see if there's any interest ... if you are in the MN area and are interested, leave me a comment below.